Karuppan Movie review.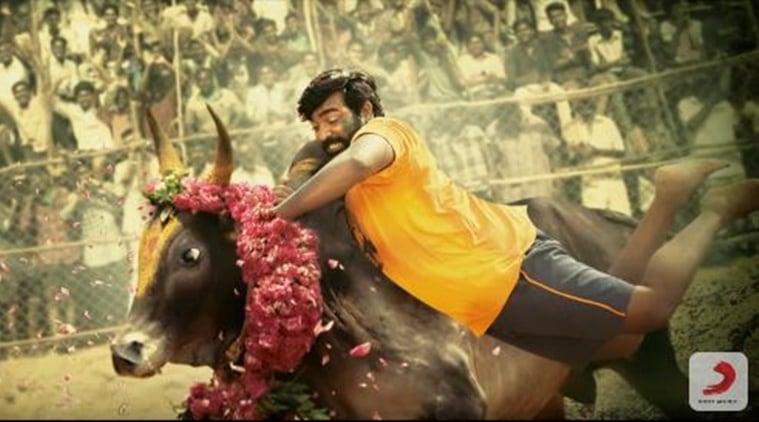 Karuppan (Vijay Sethupathi) is a Jallikattu enthusiast. In one of the Jallikattu contests, Maaye (Pasupathy) agrees to marry his sister Anbu (Tanya Ravichandran) to Karuppan if he manages to tame his ferocious bull. Maaye makes his sister to marry Karupp not only he has won, He himself likes Karupp for his character even though he is uneducated and has no job an drunker and even offen goes for fight for justice, Anbu and Karuppan gets married,  Karrupan tells to Anbu that he likes more for watching his mother, Anbu makes Karuppu as an man who should live house for a job in the morning and to come back at 6.00pm. Kadhir ( Bobby Simha ) who is brother in law of Maaye, who wish to marry Anbu ,Maayes sister,  but fails because Maaye has given a word that if Karuppan wins in taming bull he will give his sister to marry the winner and Karuppan gets Anbu. Kadhir wants to attain Anbu and makes twist between Karuppu and Maaye, and makes to split Karuppu and Anbu,
Watch the beautiful movie to know about the affectionate couple. Vijaysethupathy suites in the character and he lived as Karuppu. Dhanya as wife acted equally to Karuppu, Simmha comes as villian and catches all, Pasupathy and Singampuli gives good support, Songs are wonderful, camera talks in all scenes. Above all the mother and  son, and brother and sister sentiments made the film so powerful. The chemistry of both hero and heroine does so good to the character. Vijaysethupathy acting is so natural. Karuupan a very good movie to watch with family. An  entertainment film with comedy, sentiment and fight.  Karuppen is a movie like having a good full meal.
cineinfotv.com      " request each and every cinema  lovers  to  watch the movie in Theaters only  "
                                                                 Thank U All.