" Dharalaprabhu " movie review.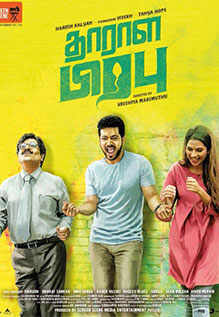 Director Krishna Marimuthu's Dharala Prabhu is the official Tamil remake of Ayushmann Khurrana's Vicky Donor. Prabhu Govind (Harish Kalyan), ." Dharalaprabhu " movie review.Dr Kannadasan (Vivekh), a fertility specialist, runs a clinic and a sperm bank on the streets of Parry's Corner. Though he has been treating childless couples for decades successfully, he desperately needs a sperm donor. So Dr.Kannadasan search for a person, finally he finds Prabhu Govind. Prabhu a  football player who play to get a job on sports quota,Who registered in enployment exchange. He lives with his mother and grandmother.and look after their beauty parkour in a traditional way.
Kannadasan calls it a legal way of getting a baby and stalks Prabhu Govind to make him agree to donate sperms, Kannadasan decides that he will be an person of  laying golden eggs, and naturally, he doesn't want to let go, Prabhu becomes a regular sperm donor at Kannadasan's clinic. But his family doesn't know a thing, although Prabhu makes a lot of money. Everything goes smooth until Prabhu falls for Nidhi Mandanna (Tanya Hope). Prabhu feel ashame of what he does and he hides it She openly says that she is a divorce,Prabhu say ok after hearing her flashback, they got  wedding. The first half of the story moves like a breeze, but in the second half, it takes a serious turn. Dr.tells to Prabhu that she cannot be a mother, Nandhi gets upset and they decide to adopt a baby, When they live happly a storm comes in way of income proof, were Dr deposited a lot of money in bank in name of Prabhu, which the money cames as aa gift for donating to a minister . Later what happens to the Prabhu when she comes to know that her husband is a sperm donor, is the climax.
The humour in Dharala Prabhu was worked well with Vivek's combo with Harish and his asst Shivaji., Viveks  jokes work very well enjoyable and comes so naturally for him..Harish Kalyan shows his superb acting skill .. The actoress  Tanya Hope is qute  delight to watch, The music and dialogues gives plus to the story, Director has given a movie with combo of Family Sentiments. Love & Laughter.
Dharalama markka tharalam : Ratio  8.5/10